On a recent trip to Southern California, my wife Nancy and I spent a few days exploring Downtown Los Angeles. As usual, I proceeded to photograph nearly everything that moved – and almost everything that didn't. And what I didn't shoot, I wanted to.
But I was especially taken by three "environments", which are key inspirations for the images in this exhibit.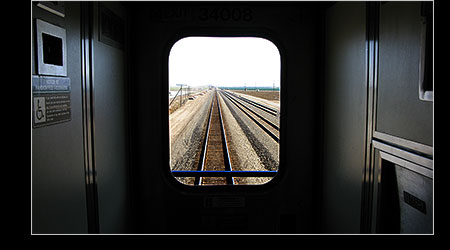 First, we traveled to and fro via Amtrak's Coast Starlight, which by any rational definition is a train. Which makes me, by definition, silly putty - hopelessly sucked in to the train sounds, the smells, the motion and all the visual opportunities including the endless dolly-shot out the window. I wandered that train - end to end, again and again - photographing everything in sight - like some nomadic, compulsive railroad inspector.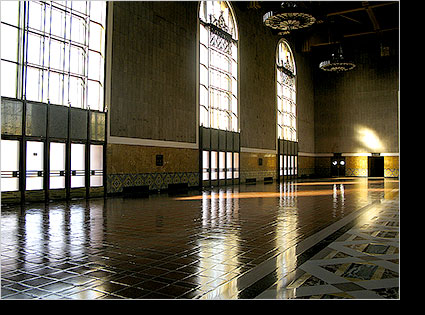 Luckily for us, it turned out the Coast Starlight was going to LA, too! So we both ended up at Union Station. Built in the 1930's, it's an odd, but satisfying architectural mix of Moorish, Dutch Colonial Revival, Mission Revival, and Streamline Moderne! (You can DO that?)
The station is visually rich, but what really caught my eye was the massive ticket concourse with a 50 foot high ceiling, giant arched windows and a wonderful, highly polished tile and marble floor.
The space is huge. It is pristine. It is ... well, empty. Blocked off and un-used! Seemingly ignored by everyone but a few photographers who knew a good thing when they saw it.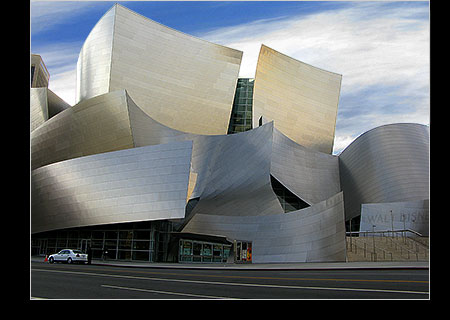 Finally, the wacky and whimsical Disney Concert Hall had me grinning from ear to ear. Is this a building or a sculpture?
Everywhere I pointed the camera I saw a great composition. The angles, the curves, the tonal and color qualities of the surfaces and the light all had me bug eyed and shutter-clicking.
I went back 4 times in a barely restrained binge of visual gluttony.
I almost felt guilty.


Back home in Fairfax, I looked at the almost 2000 images I'd shot and was sadly under-whelmed. Oh I had some good ones, But most of what was exciting me there now seemed mundane. Sigh.
So I'm sitting at the computer, minding my own business, working on an image in Photoshop (which I consider to be – if not THE God – at least A God (perhaps 1st deputy assistant to THE God). You could say I'm a fan.
As I stared at the photograph, I could hear a celestial sounding voice say "I wonder what would happen if I ......?" That simple yet powerful question along with Photoshop was the answer to my prayers.
It led to
- Large amounts of faith based trial and error (Praise Be Unto Undo)
- Religious fervor causing missed sleep and forgotten meals
- Some timely, late night visits from St. Epiphany
- An exploration of symmetry and the blending of images
and finally
- The "photographs" in this exhibit
- Amen