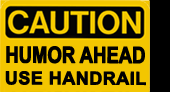 Exposure to humor such as this can result in
profound feelings of happiness,
well being and a growing desire
to hang some of this stuff on your wall.


Taken as directed, these photographs can cause short term depletion of
Serious-olyne (a chemical produced in the area of the brain
known as the Corpus Christie).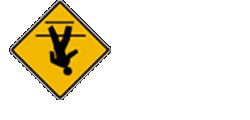 Side effects may include (but are not limited to)
giggles, grins, guffaws, chortles, titters,
smiles, snickers and snorts.

Verbal effects may occur – most often a single "HA",
but there are documented cases of "Comicus Doublis" ("HA HA").
Rarely, these photographs can cause whatever you're drinking to shoot,
violently, through your nose. (pleeease let me know if that happens).
Ask your doctor if humor is right for you. If feelings of giddiness or well being
persist for more than 4 hrs, just turn on the news for a few minutes.
DO NOT USE WHILE OPERATING HEAVY EQUIPMENT
(So light equipment is Ok?)